Professional Plumbers in Euless, TX
Residents located in Euless, TX, don't have to look far for a reliable, professional plumber. HEB Plumbing & Sprinkler-Kathlyn Smith, which operates out of nearby Bedford, TX, provides same-day plumbing services to homeowners throughout the city.
Experienced Plumbers That Provide Euless, TX with Residential Plumbing Services
HEB Plumbing & Sprinkler is not a company that only specializes in providing one specific type of plumbing service. Instead, our company prides itself on providing a comprehensive selection of plumbing services that include everything from basic repairs, such as repairing a dripping faucet or a leaky sink, to complex repairs such as detecting tree roots that may be blocking a pipe or finding and fixing a gas leak.
We provide repair, installation, and replacement services for appliances or plumbing hardware:
Toilets
Sinks
Bathtubs
Showers
Laundry rooms – water lines to washing machines
Garbage disposal
Plumbing Maintenance Services Offered by Experienced Euless, TX Plumbers
Many people assume that plumbing problems are something you cannot prevent, but this is an incorrect assumption. There are many plumbing problems, such as leaking water heaters and clogged drains, which can be prevented by having a professional plumber come out and perform annual maintenance inspections.
HEB Plumbing & Sprinkler offers preventative maintenance services to local residents and business owners. The goal of this service is to inspect the residential plumbing system for any problems. If we spot an issue with your plumbing, we can provide recommendations for how best to fix the problem. Recommendations will range from having basic repairs done to the plumbing system to the replacement of the particular plumbing hardware or appliance.
Honest Pricing on Plumbing Services in Euless, TX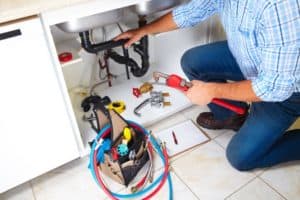 Cost is a huge issue when looking for a plumber to perform plumbing services in Euless, TX. Many plumbers are not upfront and honest about pricing, but HEB Plumbing & Sprinkler isn't like other plumbing companies.
We believe our customers should have all the information they need when making a decision regarding who to choose as a plumber, and that includes having a full understanding of how much a particular project will cost. We are transparent about everything from how much it costs to purchase equipment to how much it will cost for labor and time.
When you call HEB Plumbing & Sprinkler for residential plumbing services, you know you are getting someone who is providing you with an honest, fair price quote.
Call us today to learn more about our plumbing services in Euless, TX, and the surrounding cities, including Bedford, Hurst, and Colleyville.