Fred Isham Smith, Jr. Master Plumber M11683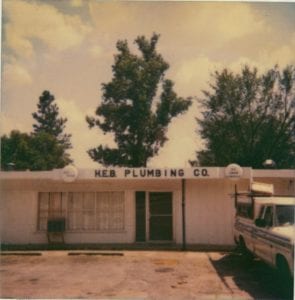 Founder and Owner of the " Real & Original " H.E.B. Plumbing
Opening his first plumbing shop in Euless, TX, Fred Isham Smith's H.E.B Plumbing Co. has been providing top-quality residential and commercial repair plumbing, sprinkler system repair, and sewer and drain cleaning to all of NE Tarrant County since 1979.
His values and commitment to service continue on through his wife, Kathlyn Smith, the owner and responsible Master Plumber of H.E.B Plumbing & Sprinkler.
Some of you may know Fred as a Master Scuba Diving Trainer MDT 35969 and owner of the dive shop Scubasport, located in Hurst, as well as being a world traveler. Fred Smith was also a United States Marine, enlisting to serve his county at the age of 17. The USMC mindset of "Never Give Up, Never Surrender, and Always Persevere" was with him throughout his life.
Fred passed away from cancer in 2013, but his legacy lives on thru his plumbing company, his family, friends, and customers.
In 2013, we added "Sprinkler" to our name, becoming H.E.B Plumbing & Sprinkler. While another company has chosen to use our well-known and trusted H.E.B Plumbing A+ reputation name, ask for Kathlyn or confirm this is Fred and Kathlyn Smith's company when you call so you know you've reached the fine company Fred started, the "Real & Original" H.E.B. Plumbing.