Plumbers in Haltom City, TX
It's important to be able to trust the plumber you choose to work with. If you do not have a plumber you can trust, you will not have someone in mind to contact when there is a plumbing emergency in your Haltom City home.
You may also defer some of your maintenance or put off repairs that are needed simply because you are not sure who to reach out to in order to get those things completed. You could end up choosing someone who doesn't do quality work or someone who will overcharge. Instead of taking that risk with your Haltom City property, it is better to have a trusted relationship with a plumbing company that can meet your specific needs.
Experienced Plumbing Services
HEB Plumbing & Sprinkler-Kathlyn Smith is proud to work in the Haltom City area and has been in business for more than 35 years. We deliver the quality you have come to expect from companies that value their business relationships with clients and the community. There is no plumbing problem too big or too small for HEB Plumbing & Sprinkler in Haltom City and the surrounding area.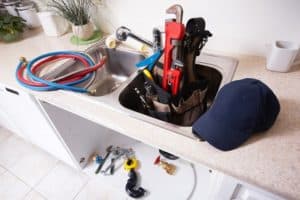 We are a locally owned company and do not pass your hard-earned money along to contractors who aren't even local to your area. Instead, you can have confidence that you are working with a company that is invested in the community around it, where so many of its employees live and raise their families.
HEB Plumbing & Sprinkler also understands the common plumbing problems that appear in Haltom City, so you can be comfortable with the plumbing knowledge the company has. That helps you feel better about any plumbing problems, knowing the work will be done right the first time.
Residential Plumbing – Help When You Need It the Most
No matter the plumbing issue you have, HEB Plumbing & Sprinkler is ready to help. There are a wide variety of services to choose from to ensure your Haltom City plumbing problems are handled in a fast, professional manner. For any type of indoor and outdoor plumbing repair, HEB Plumbing & Sprinkler is ready to meet your needs.
Some of the many plumbing issues handled by HEB Plumbing & Sprinkler include:
Water heater replacement
Any type of indoor/outdoor plumbing repairs
Repairs to pipes, drains, and gas lines
Lawn irrigation sprinkler system repair
Preventative maintenance
Reach out to HEB Plumbing & Sprinkler today to schedule an appointment today in Haltom City, Texas, and the neighboring areas, including Watauga, North & East Fort Worth, and Richland Hills.