When you contact a plumber for a service, how much do you know about him or her? Most homeowners, when faced with a problem such as a leaking pipe or a running toilet, are more concerned with fixing the problem than whom they are hiring. Before you panic and pick a random company to fix your plumbing issue, here are five things to consider when hiring a plumbing contractor.
1. They Are Licensed
Plumbing is an integral part of your home, and it's important to choose a team that is licensed and experienced. Don't be afraid to ask a plumbing company for its credentials, licenses, proof from the state that it's insured, and its BBB rating. Even if your state does not require licensing, it is still an important aspect to consider. Licensing means that an individual took time to learn and master his or her craft before beginning to work on another person's home and without it, you never know what experience they have.
Is HEB Plumbing & Sprinkler Licensed?
Yes! HEB Plumbing & Sprinkler requires its team to be properly trained and licensed before being introduced out into the field to work on clients' homes or businesses. While Texas may not have laws mandating licensing, HEB Plumbing & Sprinkler – Kathlyn Smith believes that experience and knowledge matters. We want our team to be prepared to handle any situation that comes their way so that we can better serve our clients.
Our dedication to excellent service and on-going education of our team has led us to achieve and maintain an A+ rating with the Better Business Bureau. We have been awarded the Silver and Bronze level of the 6 Stones. 6 Stones is an organization that recognizes companies that are committed to helping those who may not be able to afford necessary repairs to their homes or non-profit businesses. At HEB Plumbing & Sprinkler we believe that giving back to our community is an essential part of our business and lifestyle. When our community needs us, we have their backs. This is why HEB Plumbing & Sprinkler has been one of the leading and most trusted plumbing companies in the DFW area for over 35 years!
2. Customer Reviews/ Relationships
The biggest indicator of how well a business will treat you is how well they have treated their previous clients. Make sure you look up past client reviews. Do they speak highly of the plumbing contractor? If there are negative reviews, what was it concerning? Pay particular attention to return clients. If they are returning due to trust and confidence in the plumbing company, this is a strong indicator of a business that is putting its clients first.
What to know how HEB Plumbing & Sprinkler stands with its clients? Just click to read more of our reviews here!
3. Willing to Give an Honest Estimate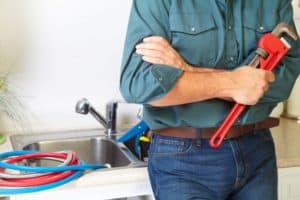 Any plumbing contractor worth his or her weight will not expect a homeowner to pay for an estimate, as the homeowner may want to get a second opinion. At HEB Plumbing & Sprinkler, we offer an honest assessment of our plumbing problems. We will break down the problem with you, explain how we plan to fix it, and the cost of repairs. Honesty and open communication are part of the foundation for our operation.
4. References
If you are still unsure about the caliber and treatment that your plumbing contractor is going to give you, don't be afraid to ask for references. All professional plumbing contractors will have references that can help you get a clearer understanding as to what to expect from their services. If the company you are talking to refuses to give you references it is best to find another contractor.
When it comes to professionalism and ensuring that our clients' needs are met, there is no better team than HEB Plumbing & Sprinkler. We have been proudly serving the people of DFW for over 35 years. Contact our team today for more information about our services! Remember, if you see Kathlyn Smith, then you know it's the real HEB!